I often feel a little like " Benjamin Button"  where at 50 years old, I seem to be getting younger by the minute and finally able to do things that I longed to do many years ago. 
One of those things was attending drama college which just over one month ago, I was lucky enough to do. 
Last year my Drama coaches, Kay and Antony Stamboulieh, introduced to me the notion of traveling to Kent, England to attend one of the summer workshops at Rose Bruford College of Theatre and Performance, where Antony trained as an actor. 
This was such a great opportunity, I couldn't ignore it and so shortly afterwards, I secured my place in the course entitled " Shakespeare and Michael Chekhov - Synchronicity between actor and text."
The start date for this course was July 4th and it just so happens that a few days earlier, veteran actress Ann Mitchell was due to perform in the West End play called " A View from Islington North".  I mention this because Ms. Mitchell happens to be my all time favourite actress whom I have wanted to meet for the past 30 years. It is my admiration for her work and talent that generated my desire to pursue an education in drama and performance. 
Anyway, I decided to travel from Canada a few days earlier than originally planned so that I could finally see my dramatic heroine in the flesh ( on stage that is). I didn't actually intend to hang around after the play as although I have few fears on stage, I tend to be a little shy in real life situations such as this.  Seeing Ann Mitchell live on stage would have been enough for me. 
However, as luck, or destiny would have it, I happened to be in the tiny foyer of the Arts Theatre a little earlier than intended (as my heels were too high to wander around London any longer) and I happened to start a conversation with a lovely lady called Margaret. I told her the reason for my early pilgrimage to London and the fact I wasn't going to wait around afterwards.  Her eyes suddenly lit up and with a smile she said " well, that's too special to miss, I happen to be an actress and I have a friend who is on Face Book with Ann.  I'm going to text her right now to see if she can get a message to Ann"  Well the next few minutes are a little bit of a blur but sure enough, Margaret soon received a message back to say that Ann would be delighted to meet me. 
After a wonderful play, I sat patiently waiting in the foyer and soon I was face to face with Miss Mitchell.  What a lovely and gracious lady, so commanding on stage and so humble off. What a perfect combination! With shaking hands I took hers and thanked her for inspiring me to pursue my passion of acting.  With her sweet Cockney accent, she thanked me back and later that evening, she looked me up on Face Book and we are now friends. Talk about a dream come true? Actually more than I could have ever imagined!
Then after I came down to earth ( it took a day or two) I traveled to Kent to begin my 7 day course at Rose Bruford. What a wonderful experience that was! The Instructor Graham Dixon immediately transported us to a holistic world of learning. 
Mr. Dixon was very passionate about the Michael Chekhov method of acting and I have to say at first, I had to leave my mind wide open in order to take it all in. It was quite different from anything that I have experienced before.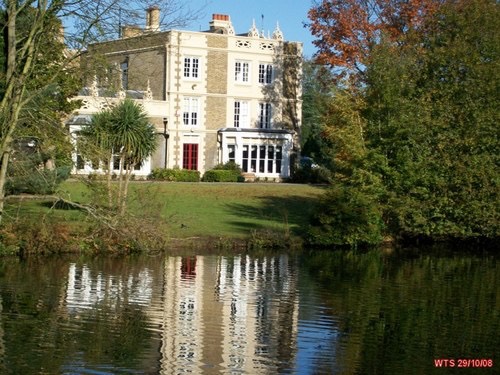 Michael Chekhov (apparently a relative of Anton) believed that contrary to other teaching, any emotion can be generated by gestures. This method focuses on a set of "principles" which the actor can use to generate an emotion within without depending on his own emotional experiences.   For instance, if one's character is an introvert, some simple physical gestures that we practiced were used as the catalyst that naturally evoked the related emotion.  At first I have to admit I was a little sceptical but as I began to practice many of these gestures and principles, my emotions did change without effort. I truly felt that with these tools, I could become anyone I wanted on stage. 
Over the course of a week, we utilized gestures while studying Shakespeare's text and I must say, I gained a wealth of experience that I never thought possible in that regard. 
All this new information as well as a perfectly idyllic location proved to be a physical, educational and emotional retreat that I could have only dreamed of. 
As Cavafy once said in his poem " Ithaka" (the first poem I learned with Kay and Tony)
Keep Ithaka always in your mind. 
Arriving there is what you're destined for. 
But don't hurry the journey at all. 
Better if it lasts for years, 
so you're old by the time you reach the island, 
wealthy with all you've gained on the way, 
not expecting Ithaka to make you rich
Well, I arrived, found my Ithaka and it was well worth the journey.